Top Ways to Stay Cool on the Golf Course This Summer
Summer doesn't have to be a bummer. When it comes to Foley golf in the summer months, GlenLakes Golf Course has tips to keep you coming back all summer long!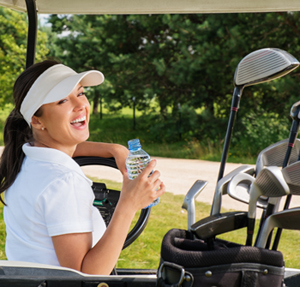 Let's start with your pre-round prep. Before your round, grab a granola bar, banana or something light to eat in the GlenLakes Clubhouse. This will help to preserve your energy throughout your round. When you've made it through the first nine, come in to the Bunker Café and grab some lunch to cool off and rehydrate before your second nine.
Be sure to wear light, breathable clothing to deflect the Foley sun. Shorts and a hat are a must during the hottest days, and it's quite helpful to have an umbrella nearby to keep you shaded while on the course.
Another handy tip is to pack a cooler with a couple towels in the ice so that you can take them out on the course for a quick cool down.
Also in your ice chest should be plenty of hydrating liquids. Your liquid intake is vital in playing in the summer, so grab a few Gatorades and bottles of water before heading out. The suggested amount of fluid intake is 1 bottle of water for every 2-3 holes.
---
Put a little thought into your preparation and you'll soon be playing it cool at GlenLakes Golf Club.